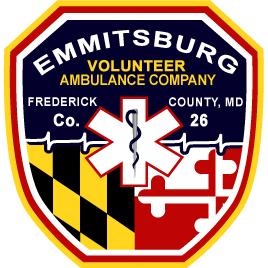 SERVICE • SAFETY • COMMUNITY
EMMITSBURG VOLUNTEER AMBULANCE COMPANY
COMMITTED TO A MISSION OF SERVICE
ABOUT EVAC
OUR RECORD OF SAFETY
• WE HAVE BEEN SERVING THE EMMITSBURG & SURROUNDING COMMUNITY SINCE 1946
• 97.7% SUCCESS RATE
• 2 MIN AVERAGE CAREER RESPONSE TIME (4 MIN VOLUNTEER RESPONSE)
• 100% EMT BLS CERTIFIED OPERATIONAL MEMBERS
• ESTIMATED 1100 CALLS PER YEAR
LOCATION
17701 Creamery Rd.
Emmitsburg, MD 21727
P: 301-447-6626 | F:301-447-3887
FIND OUT WHAT'S HAPPENING AT EVAC
NEWS & EVENTS
*** Dept of Homeland Security May Shut Down but National Fallen Fire Fighters to Remain Open, Relocate to Emmitsburg Ambulance Co. read more here >>
CURRENT & FUTURE EVAC MEMBERS
MEMBERS
GEAR UP! JOIN THE EXCITEMENT
INTERESTED IN BECOMING A VOLUNTEER FIREFIGHTER OR EMT?
We are a proud organization that has a role for everyone, from 16-90 years of age - firefighters, emergency medical providers, hazardous materials technicians, and advanced technical rescue specialists. You may also volunteer as an auxillary or social member and help out with fundraising activities.
TRAINING IS FREE & NO EXPERIENCE IS NECESSARY!
Consider becoming one of us today - click the button to complete an application!
PLEASE COMPLETE THE FOLLOWING FORM OR CONTACT US BY PHONE OR EMAIL
CONTACT
SOCIAL HALL INQUIRIES / RESERVATIONS
410-241-0479
240-472-3484
240-285-3184
NEW MEMBERSHIP INQUIRIES
240-215-5681
BINGO INFORMATION
240-285-3184
SCHOOL & COMMUNITY EVENTS
Educational programs available upon request
240-529-7968
EMMITSBURG VOLUNTEER
AMBULANCE COMPANY
17701 Creamery Rd. Emmitsburg, MD 21727
P: 301-447-6626 | F:301-447-3887
FOR GENERAL INQUIRIES,
PLEASE COMPLETE THE FORM BELOW
17701 Creamery Rd. Emmitsburg, MD 21727 • P: 301-447-6626 • F:301-447-3887 • EMAIL
EMMITSBURG VOLUNTEER AMBULANCE COMPANY
COPYRIGHT © 2014-2015